About Us
In the 1980's Jeff Boyall and Wayne Cayton started work in a residential garage. Artwork was produced by hand and then exposed with an enlarger in a dark room. Mesh screens where made ready for ink to be passed through the screen. Although this is described in short, all these processes where lengthy and required great skill in accuracy and timing.
Even though it is old technology there remains a few areas where screen print is still the best process. Screen printed ink that is solvent based and post stoved, provides the toughest print. This type of extra tough print on polycarbonate is also the best choice for in-mold decoration for beverage print involving complex 3d shapes bar top dispense equipment.
For large runs into the thousands involving one or two colour's onto flat substrate, screen print might also still be cost effective depending upon specifications. Also worth a mention is that screen print still has the edge when wanting to print a true silver, as there is metallic content within the screen print process unlike digital print inks. As one of the the leading uk screen print companies we can combine screen print and digital print to achieve the best of both technologies where required.

Today we are one of the best digital print company's in the south combining digital print and traditional screen print for a bespoke print service. The Majority of employees have been involved in the print industry all their lives and have a wealth of experience. From today's 10 employee's we total 285 years experience. Many started in screen print and have followed the natural progression of industry changes into wide format digital print. A history of experience not only helps achieve clients goals but also allows us to find quick solutions to unexpected print situations. Deadlines change and print specifications, if possible we will always accommodate.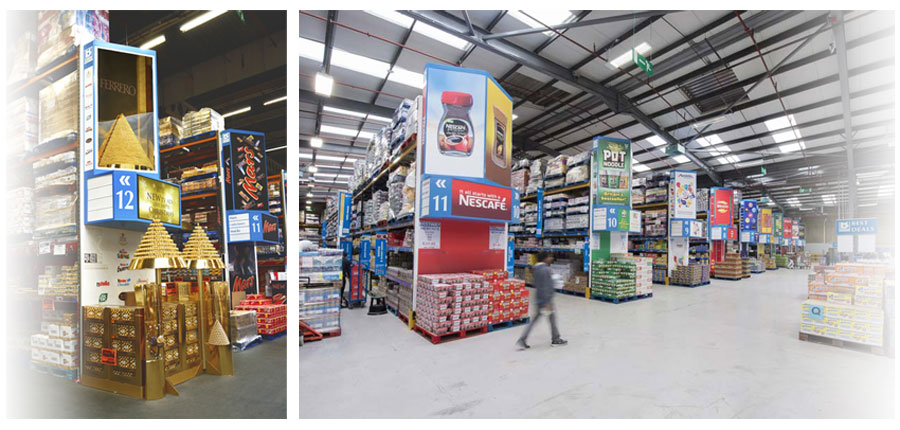 Since 2007 Boyall Graphics & Print Ltd are continuing to help cash and carry's up and down the UK promote their products, using strong brand awareness with large format digital print. For the last 10 years Boyall Graphics has been increasing its market share in designing and installing good signage across all major cash and carry stores. What constitutes good signage? 80% of customers visiting the wholesale depots say they want to or retailers wanted to get in and out as quick as possible. The challenge for the depots managers, is to make sure the branding space is easy to navigate and signage is clear so the time spent is productive as well as minimised. Today its more than just print that matters, its the understanding of how the public interact with a store and how we design hardware as well as print to help make the process an engaging experience.


Just having a wide format digital printer doesn't mean we can claim our position in the market. Our history in print is not enough to secure are position in the digital print market. Wide format digital printing is a growing market with a vast array of digital print machines and media choices. Much of are digital print work is based not just on the manufacturing project but on relationships built with the clients. Its the clients that drive new ideas and new boundaries to achieve an end goal. Although we are a manufacturing company its also about a service relationship that has built are reputation in print.

After developing a successful trading relationship with Peter & Partners Point of Sale Specialists for the Wholesale Cash & Carry market place, Boyall Graphics & Print acquired the interests of the company in December 2011.Since then Peter & Partners Boyall Graphics & Print has organically grown within the Cash & Carry sector by developing strong working relationships with blue chip companies, designing, developing and installing POS graphics across their UK based estates.

Our services as a company: Artwork generation | Cash and carry display print | CNC cutting out of digital print | Foamex cnc fabrication | Vacuum formed print | In mold decoration | Silk screen print |
Most popular printed substrate: Foamex board printing is lightweight and easy to handle has superb ink adhesion and can be pre ordered to size allowing for edge to edge print. Available in 3mm 4mm 5mm 6mm 10mm depths depending on application. Largest sheet size is 3050x1520.